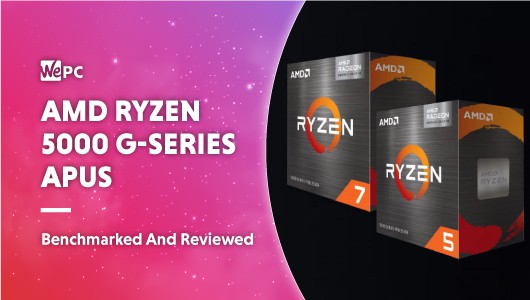 Previous generations of AMD Ryzen CPUs were aimed at the mid-range market, which is where they could often outperform Intel's offerings in the same price range. With 2020's Zen 3 however, AMD targeted their range squarely at the big league of performance gaming CPUs. Whilst this competition was welcome, it has meant that until now we have seen fewer Zen 3 offerings at the lowest end of the price scale.
The 5300G, 5600G and 5700G APUs are intended to plug some gaps in the CPU range, where, in previous generations, the 'non-X' SKUs would be found, so the Ryzen 3 5300G comes in right at the entry level with an MSRP of $150, the Ryzen 5 5600G (MSRP $259) comes in just below the Ryzen 5 5600X (MSRP $279) in power and price (essentially taking the place of a 5600) and the Ryzen 7 5700G (MSRP $359) should come somewhere between the Ryzen 5 5600X and Ryzen 7 5800X (MSRP $449), taking the place of the non-existent 5700.
As you can see in the below comparison table, the 5600G has the same number of cores and threads (6/12) as the 5600X and the same TDP (65W), but has half of the L3 cache (16MB instead of 32MB) and a 0.2GHz slower Boost Clock Speed, though obviously it has the advantage of coming with RX Vega 7 integrated graphics. Similarly the 5700G APU has the same number of cores and threads as the Ryzen 7 5800X (8/16) but a lower TDP of 65W compared to the 105W of the 5800X and a 0.1GHz slower boost clock frequency. The L3 cache of the more powerful 5700G APU is still only 16MB compared to the higher 32MB of the cheaper 5600X CPU – we will see how this affects workstation performance in our benchmarks below.
The 5300G, 5600G and 5700G come with all the benefits of the Zen 3 CPU architecture compared to the older Zen 2 Ryzen 5 3400G and Ryzen 3 3200G APUs – as a consequence, the performance of both is substantially improved over the older generations in CPU heavy tasks as we will see. It is a different story for graphics performance however.