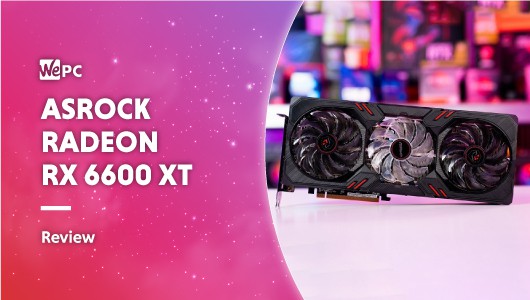 So what is the conclusion of our Radeon RX 6600 XT review? Well, as far as the specific AIB we tested, the ASRock Radeon RX 6600 XT Phantom Gaming OC, we are pretty impressed with this graphics card. Not only did the RX 6600 XT beat the RTX 3060 at 1080p across all but one game we tested it on, broadly backing up the 15% FPS uplift claimed by AMD, it also outperformed at 1440p. This you would expect for a card whose MSRP is 15.5% more, but the card also managed to beat the 3060 Ti at 1080p the majority of the time (which at $399 has a 5% higher MSRP), and overall pretty much matched it at 1440p (sometimes beating it, sometimes losing, sometimes drawing even).
At 4K resolution, the RX 6600 XT did not perform so impressively, which considering its 4GB less VRAM is not surprising, but this is not what this AMD card is designed for, and we wouldn't even recommend the RTX 3060 Ti for this resolution (an RTX 3080 or 6900XT is what we'd suggest if you want good FPS performance on high graphics).
Is The AMD Radeon RX 6600 XT Worth It?
If you are interested in 1080p gaming and don't care much about Ray Tracing, then we would say the AMD Radeon RX 6600 XT is definitely worth it, and we would recommend it over both the Nvidia RTX 3060 and the RTX 3060 Ti.
Similarly for 1440p gaming, the RX 6600 XT is superior to the RTX 3060, and we would even say it's worth considering compared to the RTX 3060 Ti at this resolution – ultimately the deciding factor here will be which one you can find in stock and at what price, if you can get hold of an RX 6600 XT at anything close to MSRP (which is very unlikely for the RTX 3060 Ti in today's market) then we would definitely suggest you grab one.
If you're after Ray Tracing performance, then Nvidia graphics cards are still the way to go, and either the RTX 3060 or the RTX 3060 Ti would be good choices, depending on your budget, and, more crucially, which one you can actually get hold of at a price close to MSRP.
All told though, the AMD Radeon RX 6600 XT is a great graphics card for most builds – make sure you check out our Where To Buy AMD Radeon RX 6600 XT page to ensure you get one whilst stocks last!
Disagree with our conclusion or have something you'd like to know that we haven't covered? Please leave us a comment below and let us know your thoughts.