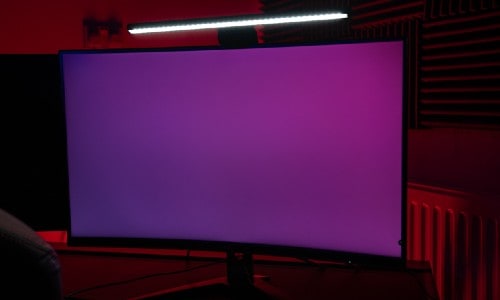 Features and Performance
While not particularly feature rich, in the world of monitor light bars (and even lamps more generally), the Baseus Monitor Light Bar has all the quality of life features you'd expect.
With three colour temperatures – white, warm white and bright white – the lighting is easily swapped to adapt to the changes in natural light throughout the day. On particularly overcast days I found it helpful to have the white setting on just to combat the general gloom, switching over to the warm white function in the evenings. The adjustable brightness also allows you to customise each individual light temperature if you find the light to be too much or too distracting. 
As far as performance is concerned, the light performs exactly as you'd expect with minimal fuss. I've been meaning to get a proper lamp for my home office setup for a while so the Baseus Monitor Light Bar is a nice win-win. It securely fits to both my curved and flat screens, without any noticeable wobble or instability. I probably wouldn't advise using this on a laptop screen even though you probably could – while it will help illuminate your keyboard, the size of the light and fitting become incredibly noticeable and would likely weigh down smaller, thinner screens on some notebooks and Macs.
One thing that's missing that you get with other models is auto-brightness – settings that adjust to the natural light as it changes throughout the day. Although this is a nice additional feature to have, you can easily live without it given the price point of the Baseus Monitor Light Bar.