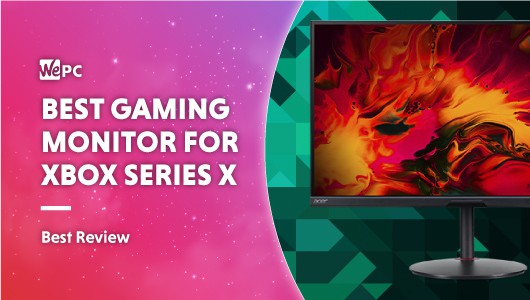 If you're new to the world of monitor technology, you'll likely find it very difficult choosing the best monitor for your Xbox series X needs. For that reason, we'll be outlining some of the main things to look for when purchasing a monitor for Xbox Series X consoles – explaining its importance and why you should consider it.
Let's dive straight into it:
Size
Choosing the right size monitor for Xbox Series X comes with a whole host of considerations – most revolving around performance and immersion.
As the next-gen console from Microsoft offers 4K image quality, most will want to benefit from this by purchasing a sizeable monitor to match. However, for those more competitively minded, a smaller, faster monitor is often prioritized. Monitors around the 27-inch mark provide the greatest levels of performance – across both 120hz and 60hz gameplay.
That being said, for individuals that like to game on a casual level, prioritizing picture quality and image clarity, a larger gaming monitor might be the best option. They often provide greater levels of immersion and better overall viewing experiences.
Price
Price is another huge factor that should come into all of our purchasing decisions. The same can be said for Xbox Series X monitors, with most falling into the higher end of the pricing spectrum. But why is this?
Well, if you want to get the best visual experience from your Xbox Series X, you'll need a monitor that offers up 4K image quality alongside HDMI 2.1 support and a fast 120hz+ refresh rate.
Whilst these are fairly standard specs for a smaller panel, finding the same specs from a larger panel is much more uncommon. For that reason, the best gaming monitors for Xbox Series X usually retail for around $700+.
If you're willing to lose out on image quality, opting for a 1440p or 1080p panel, you will be able to reduce that figure exponentially.
Screen Resolution
As you've probably guessed at this point, screen resolution is another hugely important part of the purchasing decision. For next-gen consoles like the Xbox Series X, a 4K screen resolution isn't essential, but it is recommended for the highest levels of immersion.
As always, this high-end specification will increase the overall cost of the monitor you're looking at purchasing – even more so if you want the same 144hz refresh rate that other panels offer.
HDMI 2.1
Finally, we have HDMI 2.1 support. HDMI 2.1 is the latest standard of HDMI and is the only version that supports 4K gameplay @120Hz (or 8K gameplay @60Hz).
This specification is particularly important for console gamers as it not only increases the overall fluidity of gameplay, but also allows players to become more competitive.
Unfortunately, there aren't many gaming monitors in today's market that actually offer up HDMI 2.1 support. There are a few on offer, but most still utilize older HDMI 2.0 ports, limited to a maximum of 4K @ 60Hz.