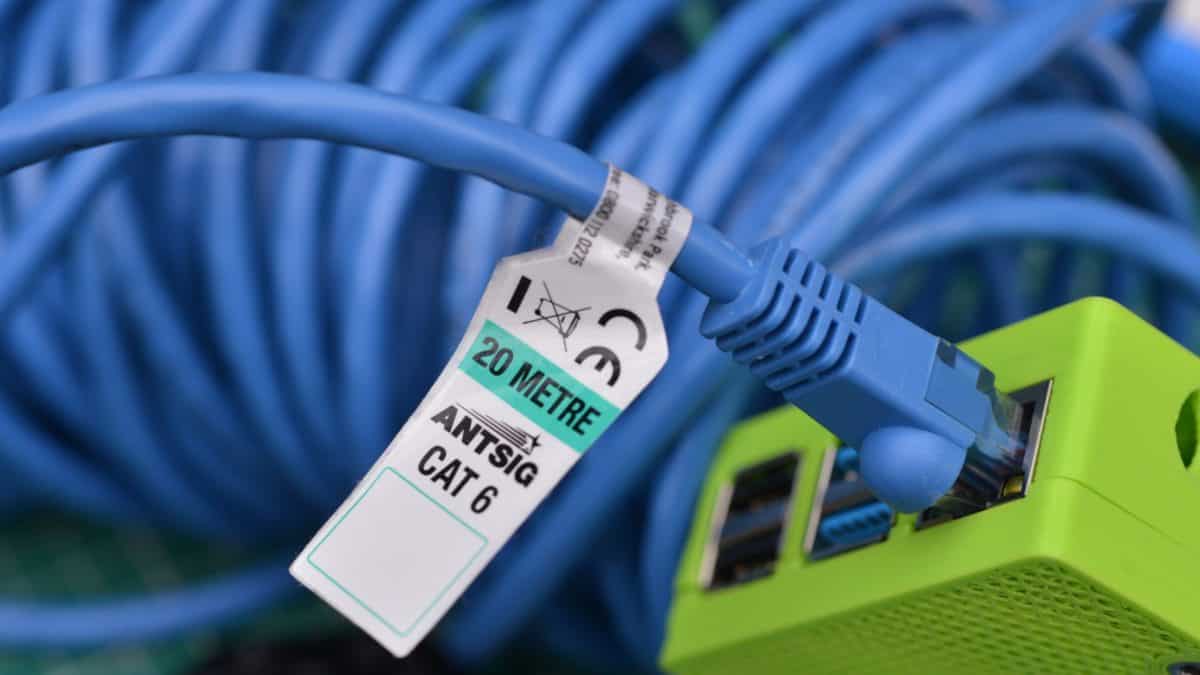 Granted, ethernet cables aren't the most exciting topic in the world. However, choosing the wrong cable category for your networking setup could see you lose precious internet speed – something that could potentially have a knock-on effect on your gaming performance and browsing enjoyment.
Whilst both Cat 5 vs Cat 6 cables do a great job of connecting your computer or server to a modem, one definitely brings a little more to the table. Many people probably don't give a second thought when it comes to cables, however, you probably should.
In the following article, we'll be lifting the lid on the differences between Cat 5 and Cat 6 cables, making the subject a much easier-to-digest topic.
So, with plenty to get through, let's waste no further time and dive straight into it!
What Is A Category 5 Cable?
So, what exactly is a Category 5 cable? Well, in its simplest form, a Category 5 cable is a networking cable used to connect your computer or server to a modem. Whilst this isn't the only use for a Category 5 cable, it's definitely the most popular usage in today's consumer market.
The cable is designed with four twisted pairs of copper wire which help to reduce noise reduction in the cable. Most Cat 5 cables are completely unshielded meaning, without this design (alongside the differential signaling), you would experience some form of noise interference.
Category 5 Standards
Looking at standards, the specification for Category 5 cables is defined in ISO/IEC 11801, IEC 61156, and EN 50173. That said, the specification used to be defined by ANSI/TIA/EIA-568-A, offering up performance characteristics for frequencies up to 100 MHZ.
Consumers can get Category 5 cables in both stranded and solid conductor forms – both of which offer unique characteristics such as flexibility and solid-core design. The category and type of cable are almost always printed on the side of the cable, letting you know exactly what you're purchasing.
Cat 5 cables are incredibly popular, utilized in most office environments or LANs across the country. Having said that, the latest standard of Cat 5 cable used within most modern systems is Cat 5e – introduced in 2001 and offering a slight improvement over Cat 5.
As we said earlier, the Cat 5 cable standard can effectively handle 10/100 Mbps speeds at a rate of 100 MHz bandwidth. Whilst this was historically considered more than enough for most general use purposes, newer versions soon started to push Cat 5 cables out.
| Property | Nominal | Tolerance |
| --- | --- | --- |
| Characteristic impedance between 1–100 MHz | 100 | ± 15 |
| Characteristic impedance @ 100 MHz | 100 | ± 5 |
| DC loop resistance | ≤ 0.188 | |
| Propagation speed (Relative to the speed of light) | 0.64 | |
| Propagation delay | 5.3 | |
| Delay skew (< 100 MHz) | < 0.20 | |
| Capacitance at 800 Hz | 52 | |
| Max tensile load (during installation) | 100 | |
| Wire diameter | 0.51 | |
| Temperature | −55 to +60 | |
| Maximum operating voltage | 125 | |
What Is A Category 6 Cable?
Category 6 cables are very similar to Cat 5, utilizing a twisted pair design that is great for ethernet and LAN networking. The Category 6 cable is fully backward compatible with Cat 5e and Cat 3 standards. However, Category 6 cables have to meet more stringent specifications for system noise and crosstalk – when compared to Cat 5.
Category 6 offers up the same four twisted copper wires design as Cat 5, although it's much more functional and versatile.
Category 6 Standards
Looking at standards, Cat 6 cables, like Cat 5, can also be identified by the printer on the side of the cable sheath. Cable types are, again, defined by ANSI/TIA-568 standards. Cat 6 cables have been utilized since June 2002, after TIA (telecommunications industry association) published it.
The Cat 6 cable offers up a performance boost over Cat 5, with the former providing speeds of up to 10 Gbps and bandwidth of 250 MHz. As stated earlier, Cat 6 cables are fully backward compatible with Category 5/5e and Category 3 cables.
Like Cat 5, Category 6 soon evolved to Cat 6A – characterized by up to 500MHz  bandwidth for improved alien crosstalk and allowing 10GBASE-T to reach lengths of 100m.
|   | Conductor Diameter (inches) | Max Length | AWG | Frequency (MHz) | Power Over ethernet |
| --- | --- | --- | --- | --- | --- |
| Cat 5e | 0.0201 | 100m | 24 | 100 | YES |
| Cat 6 | 0.0201 or 0.0226 | 100m (55 for 10 GB/s) | 24 or 23 | 250 | YES |
| Cat 6A | 0.0226 | 100m | 23 | 500 | YES |
| Mini Cat6 | 0.0126 | 10m | 28 | 550 | YES |
Physical Differences Between Cat5 Vs Cat6
One area that is often overlooked when looking to purchase Category networking cables is the physical dimensions they come equipped with. As the Cat6 cable has a slightly different internal design – utilizing slightly thicker copper – it is naturally thicker than the Cat5 cable. Whilst this isn't normally too problematic, there are certain scenarios where this could make the cable unsuitable for your needs.
We must also take cable length into consideration too. There are some subtle differences to be found when comparing the maximum length of each cable. Cat5 and Cat6 can both run up to 100m – however, when utilizing greater speeds, Cat6 cables are limited to 55 meters instead.
Which Category Cable For My Business?
Choosing which Cat cable to use for your business is hugely important – and for a number of reasons. It isn't all about speed – there are other factors that should come into your decision, such as crosstalk interference and pricing.
That being said, speed is the first thing that comes to mind when choosing the Category cable that is right for your needs. Right now, chances are you'll be using some form of Cat cable to connect yourself or your business to the internet. If you're happy with that speed, chances are, you won't need to upgrade – Cat 5 is enough. That being said, if the internet speed is hugely important – you work at a gaming company or something – you might want to consider checking your cables and upgrading them to Cat 6. The additional bandwidth of the Cat 6 cable, alongside increased speeds, makes it many businesses' first choice.
That being said, many businesses are now utilizing the Cloud in today's day and age – putting less and less stress on the quality of your networking cables. In terms of reliability, the Cat 5 cable has been doing an excellent job for almost 20 years now – providing efficient performance where you need it.
Let's no forget about the price either. As you probably guessed, Category 6 cables are more expensive than Cat 5 – adding another annoying layer to the puzzle. Interference is also something users need to figure out when purchasing Cat networking cables, with Category 6 providing the most stable format. Category 6 cables even include a nylon spline which helps eliminate crosstalk problems.
Which Category Cable For Home Use?
But what about home use? Well, for most general users, using a Cat 5 cable at home is more than enough. Let's not forget, the Cat 5 was considered the gold standard for networking cables for almost 20 years. There's nothing to suggest that you'll need anything more powerful than that.
That said, if you are in the market for something a little more efficient, the Cat 6 cable will certainly provide this.
Final Thoughts
So, there you have it, our comprehensive guide to Cat 5 vs Cat 6 networking cables. Hopefully, this informative guide has made choosing your next network cable a little bit easier.
At the end of the day, it all comes down to your needs and requirements. Let's be honest, Cat 6 is by far the superior cable when it comes to networking. However, with the increased price tag it comes equipped with, many will find Cat 6 simply overpriced for what it offers. In comparison, Cat 5 is a staple of the networking cable game, offering home users more than enough theoretical juice to get the most out of their internet speeds. However, with slower speeds and less bandwidth – not to mention more crosstalk interference – some individuals may want to spend that little bit extra on something more equipped for the job.