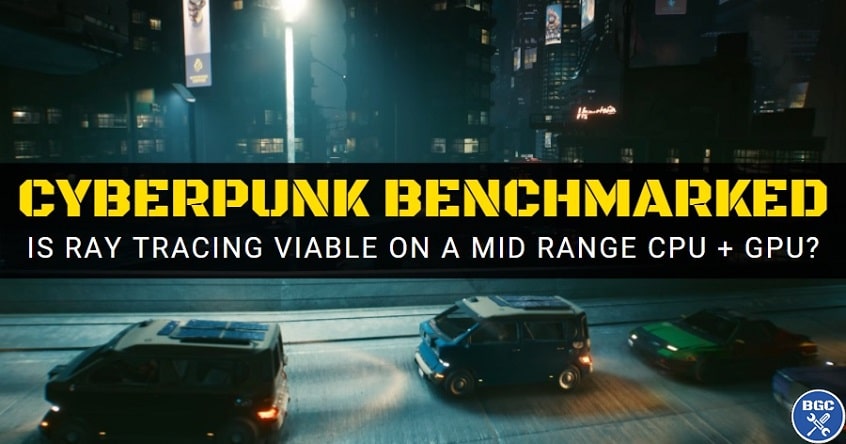 Home > PC Builds > Cyberpunk Requirements > Benchmark
Can You Run Ray Tracing on a Ryzen 5 3600 + RTX 2060 Super? (8GB VRAM)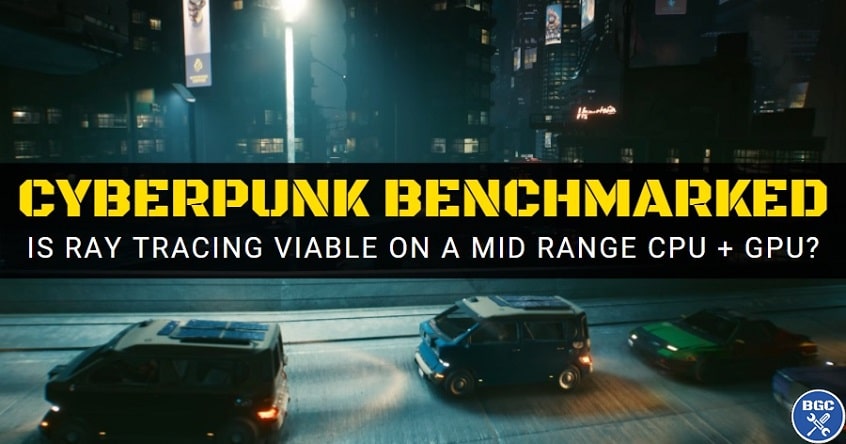 Published: February 16, 2021
Can it run Cyberpunk? You'll no doubt be hearing these 4 words until at least 2077. But is it really that demanding of a title? Do you really need a monster high-end PC to run the game on high settings or with ray tracing enabled? Before I kiss goodbye to my current system to build an upgraded setup once GPU availability improves (hopefully by Q2), I put my fairly mid-tier rig to the test against all graphical presets of the infamous game at both 1080p and 1440p. To not waste your time, the crux of the matter is this: the DLSS 2.0 this game supports is a true game-changer, and allows most mid-range graphics cards to run ray tracing in Cyberpunk with very playable frame rates. DLSS is also a must for high-end PCs when gaming at 4K, even if you have the most powerful GPU on the planet right now (RTX 3090).
If you don't know what DLSS is, check out our Cyberpunk settings guide, but it's essentially a rendering feature found on NVidia RTX 20 and 30 series cards that quite significantly improves performance by ever-so-slightly lowering image quality (to the point where most people wouldn't notice the difference, though it does depend on which exact DLSS setting you use). And in Cyberpunk 2077 with ray tracing turned on, DLSS is practically required for good performance – even with the most high-end GPUs available (if gaming at 4K resolution). And with mid-range GPUs, as is the focus here, DLSS also works its magic to make ray tracing completely within reach.
Cyberpunk 2077 is notoriously taxing on GPUs, but the DLSS feature found on NVidia RTX 20 or 30 series cards helps majorly
In this benchmark I tested the game on all presets, with and without ray tracing, and with and without DLSS, using the uber popular Ryzen 5 3600 processor, paired with 16GB of dual-channel 3200MHz RAM, and a MSI GeForce RTX 2060 Super Ventus OC (with 8GB of VRAM). No overclocking of the CPU or GPU was involved in these tests, and I extensively benchmarked multiple different areas of the game for each individual setting (one indoor area, one outdoor daytime area, and one outdoor nighttime area) to gather plenty of FPS data in order to calculate the numbers you see below. If you have other mid-range GPUs like the newer RTX 3060 Ti or older RTX 2070 Super or RTX 2060, you can do some basic extrapolation of the numbers below to guesstimate roughly what sort of performance you'd get with these cards. Let's get straight into the benchmarks.
Cyberpunk 1080p Benchmarks (All Settings)
Starting with full HD and the 2060 Super runs the game with a flawless 60FPS or higher average on any of the base presets without ray tracing. Enable those slick rays of light though and a mid-range card like this struggles, even at 1080p, though a 39FPS average on the Ray Tracing Medium preset is more than enough for a playable experience for most gamers and looks fantastic.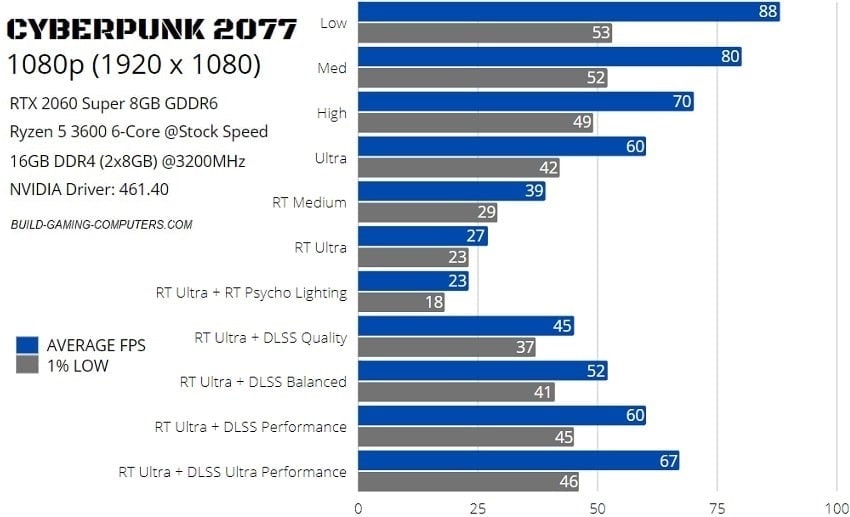 If you want a smoother frame rate of 45FPS or higher, which is where you start getting into ideal performance territory, it's DLSS to the rescue which significantly boosts FPS and allows for the ultimate Ray Tracing Ultra setting to run nicely. The more you crank up the DLSS setting, the higher your FPS, but at the expense of imager quality/clarity. As mentioned in tweaking Cyberpunk graphics settings, DLSS works better at higher resolutions and so for 1080p you ideally want to stick to the highest quality DLSS Quality setting to avoid noticing a difference in the graphics (but which still gives a significant enough performance bump).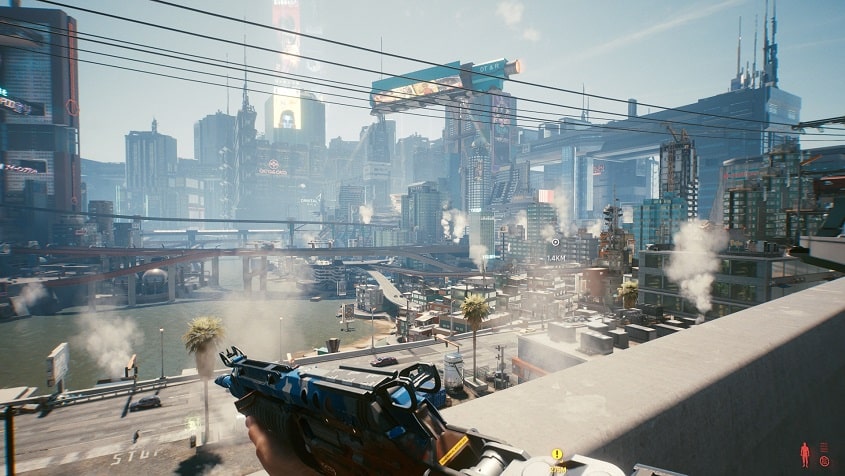 Cyberpunk 2077 is set in a large, detailed futuristic city that you can explore in whatever way you desire
Cyberpunk 1440p Benchmarks (All Settings)
Moving up to 1440p resolution and the RTX 2060 Super is predictably brought to its silicon knees with ray tracing, but once again the magic of DLSS turns the tables and makes even a mid-tier GPU of this nature capable of playable performance on RT Ultra. Cyberpunk looks fantastic with ray tracing, but without it you're still getting a great visual experience, one more impressive than most games on the market (IMHO).
So on high or ultra settings (without ray tracing) you can get around 40-45FPS on average, proving that the game really isn't that crazy demanding without ray tracing and that a mid-tier CPU and GPU combo like the Ryzen 5 3600 and RTX 2060 Super is surprisingly capable at 1440p. But if you want ray tracing to experience Night City in its full graphical glory, with a 1440p monitor you'll want a RTX 3060 Ti as a minimum, even with DLSS turned on. With DLSS at 1440p, I personally wouldn't use any other setting than DLSS Quality or DLSS Balanced, and with either of those two settings you'll need more firepower than a RTX 2060 Super (or a ballpark equivalent card like the RX 5700 XT) to reach that ideal realm of 40FPS and above.
That wraps up this short and sweet Cyberpunk 2077 benchmark, and in near future as I plan to expand into a more diverse hardware test bench I hope to bring to you guys and gals benchmarks that include a range of different GPUs (and not just one). Including for VR titles, which is predominantly what I play when I give myself the occasional time away from work to chill out. Cyberpunk is a rare non-VR title that peaked my interest, hence why I've covered it quite extensively on the site these past few weeks despite my almost exclusive use of VR nowadays (yes, it really is that much better despite the mainstream having not caught on just yet…soon).
But I must be honest, I've been playing it mostly in VR too! Wait – say what? VorpX, friend. It's basically VR simulation software than can turn some non-VR games like Cyberpunk into a semi-VR experience within your VR headset. Search YouTube for "vorpx cyberpunk" and you'll see some people doing it. It's pretty cool, and exploring Night City in virtual reality (well, semi virtual reality) is quite surreal. But it is super taxing on the GPU and really struggles on the 2060 Super, so I eagerly await my upcoming GPU upgrade to dive back in.
See Also: Cyberpunk 2077 Requirements for 60FPS (Build Guide)

About the Author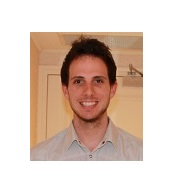 I'm Julz, creator of BGC. In my teens I learned game programming as a hobby in my spare time, which led to a keen interest in the hardware side of things as well. I then started this site to share what I was learning about DIY at the time, and through years of trial and error and slow reiterations in the quality and depth of content, over time the site has evolved from a very rudimentary little blog with only a handful of pages into a relatively in-depth resource for PC builders and gamers that has helped many gamers and power users take the plunge to build their first PC with confidence to reap the benefits of doing so.
My fav games of all time are the immortal OOT, Perfect Dark, MGS1, MGS2, GE007, DKC2, and HL1, but since trying VR for the first time a few years ago I've been completely fascinated by it and the limitless possibilities it presents. Once you experience the greatest virtual reality experiences available today like Half Life Alyx and Saints and Sinners just to name two, if you're like me you'll feel pretty freakin' excited about the future of gaming and entertainment as a whole.
PS: After a long hiatus from hobbyist game dev, I recently made a return and am excited to say I'll soon be announcing my first official game release – an immersive story-driven VR Sci-Fi Adventure powered by Unreal Engine. When the time is right I'll be announcing the first sneak peak trailer on my Twitter if interested.
Search Site