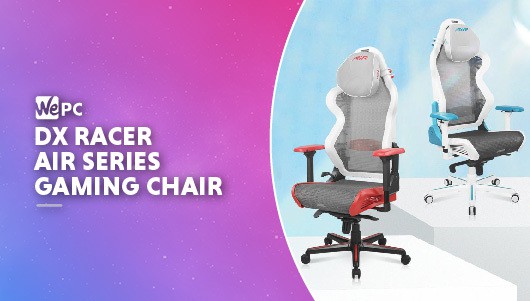 The latest introduction to the DXRacer family is the Air series gaming chairs. These chairs have been manufactured using a recycled, high-strength mesh that is not only a sustainable design but also achieves maximum breathability, while also extending durability.
These chairs are a great option for those in hotter climates or, more importantly, gamers who tend to spend hours at their desk. The Air series utilizes a suspension spring, normally found in cars, providing a lightweight and supremely comfortable chair, with excellent levels of support.
Air Series Models & Features
The series brings two models to the table, the D7200 and D7100, with subtle differences in features and price. Both models are super breathable, versatile, and supportive, with similar aesthetics, shape, weight, and included extras.
DXRacer AIR Gaming Chair – D7200
Black, White & Cyan, White & Red
2-year for Accessories, Lifetime for Frame
The D7200 model has been engineered to be DXRacers ultimate gaming chair and comes in three different colors – Black, White & Cyan, and White & Red. The chair is a one size fits all type, labeled as 'max size', and can accommodate people up to 250lbs in weight and up to two meters tall.
Two features that separate this from the D1700 are its 4D armrests and the multi-functional tilt mechanism.
DXRacer AIR Gaming Chair – D7100
2-year for Accessories, Lifetime for Frame
The D7100 model shares an identical aesthetic, size, and support, however, this slightly more affordable option features 3D armrests and a conventional tilt. This means that you won't be able to slide the armrests forwards and backward but this is hardly used in my experience anyway.
The D7100 comes to shelves available in the Grey & Pink color only but retails for $30 less than the D7200.
Both models come with a free memory foam head pillow that looks so good you could probably use it on your travels too! Both models also feature 60mm PU casters.