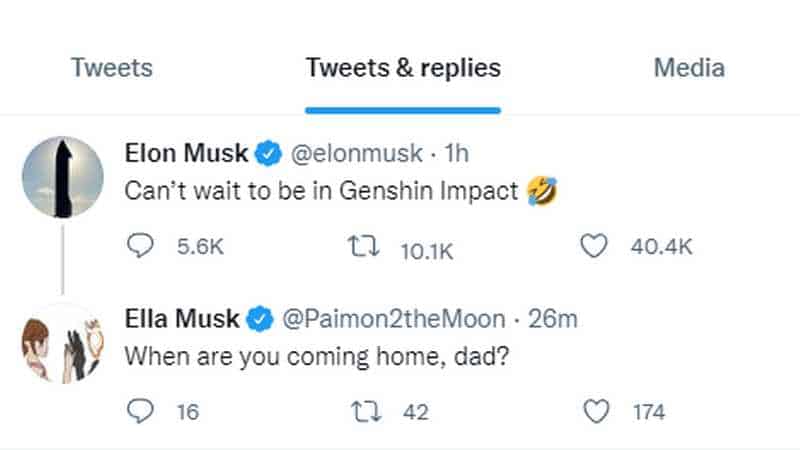 UPDATE: October 14th, 2021 — miHoYo have since deleted Ella Musk's tweet to her "Dad," as well. They've clearly thought better about the whole thing. But thankfully, we got a screenshot before it was removed from Twitter history.
On October 13th, in a bizarre and almost entirely random move, Genshin Impact developers miHoYo launched a campaign to get Elon Musk involved in the Genshin fandom. It's loosely inspired by Genshin Impact NPC Ella Musk, but caused such disdain from the community that they removed all trace of it just a few hours later.
However, Elon still got involved, tweeting miHoYo that he can't wait to be in the game… So they may yet reinstate the idea.
Genshin Impact use Elon Musk for Twitter campaign
The strange campaign started to celebrate the main Genshin Impact Twitter account reaching 2 million followers. They released a graphic showing different levels of a campaign to get their secondary account, @Paimon2theMoon, to reach the same level.
While the @Paimon2theMoon account unsurprisingly used to be named after Paimon, it has since been changed to Ella Musk, after the Mondstadt NPC who's name clearly prompted this wild idea.
The first follower goal was 500K, at which point the name would change back to Paimon. After that, each stretch goal involved Elon, getting him more involved in the game as the targets got higher.
Elon Musk Genshin Impact tweet deleted
However, the tweet containing the graphic was deleted a couple of hours before writing this. The comments section was flooded with both Elon fans and haters alike, not really understanding the relevance of the campaign… and not really caring, either. The Ella Musk Twitter account still remains on just 56K followers at the time of writing, so miHoYo must have realised there wasn't much popularity in the idea, and that it looked likely to be a flop.
Genshin Impact Ella Musk
However, in a bizarre twist, Elon himself has added to the conversation since the deletion of the original post. Hours after the campaign began, and around an hour after it disappeared, Elon tweeted that he "Can't wait to be in Genshin Impact." The laughing emoji that follows maybe suggests that he's not all that serious, though. Well, him being in the game was never on the table anyway.
miHoYo have not let this moment pass them by, of course, replying hilariously from the Ella Musk account, "When are you coming home, Dad?"
It remains to be seen whether miHoYo will relaunch the campaign now that Elon has got involved, or whether Ella will ever see her "Dad" in Mondstadt. Love or hate him, this has to be one of the most bizarre collaborations ever, and we'd love to see it.