**Update 25/10**
Tom Warren, Senior Editor at The Verge is reporting PlayStation IP such as Death Stranding is excluded from the Xbox Series X/S GeForce Now offering. He's taken to Twitter to report it's blocked from showing up in Search Results:
Original Story:
Have you ever sat down and thought "I wish Horizon: Zero Dawn would come to Xbox Series X/S", or "I just want to sit on the couch and play CS:GO tonight"? Great news Xbox fans, this is now a reality.
Microsoft Edge is quickly becoming the gateway to cloud gaming on Xbox Series X/S. Google Stadia became accessible in September when Microsoft Edge came to the Xbox Series X/S marketplace, and now GeForce Now is now available as a beta extension on the Internet Explorer successor starting today.
You can currently enjoy up to one hour's worth of playtime for free at 1080p alongside variating latency dependent on your WiFi or wired home network. There is a payable plan coming that promises "desktop-class latency" in full HD (1440p) at 120 FPS, but we're unsure on when this will be supported via Microsoft Edge and Xbox Series X/S. Although, Nvidia has promised 4K HDR and 60 FPS on Nvidia Shield TV if you really want to get into cloud PC streaming.
How do I get Nvidia GeForce Now on Xbox Series X/S?
Don't worry, it's quite simple. First, you'll need to have Microsoft Edge installed on your Xbox Series X/S, just hit the Xbox button on your Gamepad and go to the Microsoft Store. From here, search 'Microsoft Edge' and hit enter, then download. Once downloaded and installed, open up Microsoft Edge and go to https://play.geforcenow.com, login, and enjoy. Just bear in mind you'll need an existing GeForce Now account to start playing, but there are free options with other paid options available.
Nvidia GeForce Now System Requirements
Here's what you need to get going on a browser. If you need any other system requirements, you can find the official system requirements page here:
Browser
Chrome browser 77.x or later for macOS, Windows, or Chrome OS. Beta support for Edge Browser 91.xx or later for Windows.
Keyboard and Mouse
Most built-in or USB keyboards work fine. 
We recommend a USB gaming mouse for PC and Mac. Logitech and Razer offer many different options.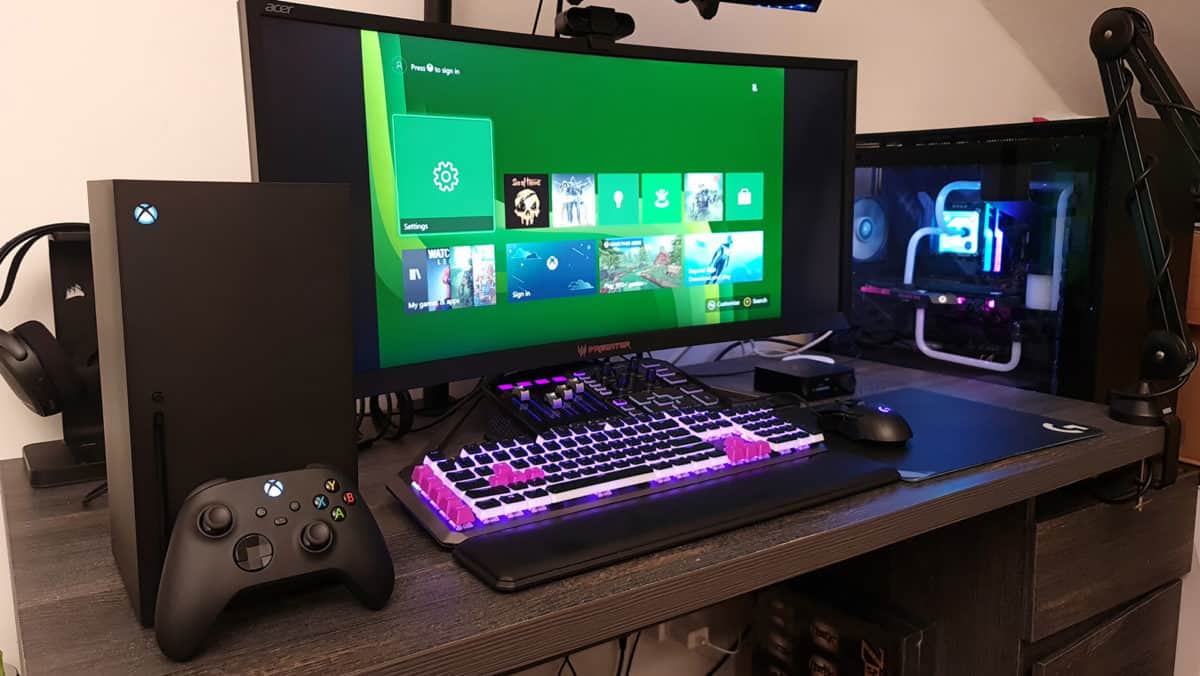 Gamepads
NVIDIA SHIELD controller (Windows only) connected USB wired or wirelessly
All Microsoft Xbox Wireless controllers using Xbox Wireless Adapter (Windows only), Bluetooth, or USB wired
Microsoft Xbox 360 connected wireless using a USB adapter (Windows or Chromebook) or USB wired
Sony PS5 DualSense connected using Bluetooth or USB wired 
Sony DualShock 4 connected using Bluetooth or USB wired 
Logitech Gamepad F310/F510/F710 

Note: you must change the controller to work into XInput mode on Chromebook, but leave it set to DirectInput on all other operating systems.  
Note: the nano-receiver must be connected to a USB port that delivers enough power, such as a powered USB hub
Additional gamepads may work with GeForce NOW. Some require additional drivers and/or software updates to properly function.
INTERNET REQUIREMENTS
GeForce NOW requires at least 15Mbps for 720p at 60 FPS, and 25Mbps for 1080p at 60 FPS. We also require less than 80ms latency from an NVIDIA data center. However, for the best experience, we recommend less than 40ms. Please read this knowledge base article on how to test your network.
Please note 1440p and 120 FPS streaming, available with a GeForce NOW RTX 3080 membership, is not currently available on browsers. You must use the PC or macOS apps.
For all the latest gaming news, make sure to bookmark and visit the WePC News Hub