Thoma is a four-star Pyro Polearm character who specializes as a shield/elemental reaction support. At present, he can only be obtained on the Character Event Wish banner Moment of Bloom, which runs from November 2nd, 2021 to November 23rd, 2021. However, as with most 4-star characters, he will become available on all three banners once the Moment of Bloom banner ends. Keep reading to find out what materials are needed to Ascend Thoma, his best builds, and an overview of how to use him effectively.`
Thoma Ascension Materials
Once you have obtained Thoma and maxed him to Level 20, he can be further leveled up through Ascension. The materials you will need to ascend Thoma are as follows:
Level 20
Agnidus Agate Sliver x 1
Fluorescent Fungus x 3
Treasure Hoarder Insignia x 3
Level 40
Agnidus Agate Fragment x 3
Smouldering Pearl x 2
Fluorescent Fungus x 10
Treasure Hoarder Insignia x 15
Level 50
Agnidus Agate Fragment x 6
Smouldering Pearl x 4
Fluorescent Fungus x 20
Silver Raven Insignia x 12
Level 60
Agnidus Agate Chunk x 3
Smouldering Pearl x 8
Fluorescent Fungus x 30
Silver Raven Insignia x 18
Level 70
Agnidus Agate Chunk x 6
Smouldering Pearl x 12
Fluorescent Fungus x 45
Golden Raven Insignia x 12
Level 80
Agnidus Agate Gemstone x 6
Smouldering Pearl x 20
Fluorescent Fungus x 60
Golden Raven Insignia x 24
Agnidus Agate Slivers, Fragments, Chunks and Gemstones can be obtained by defeating the Pyro Regisvine, located in Liyue, and the Pyro Hypostasis, located in Inazuma.
Smouldering Pearls can be obtained by defeating the Pyro Hypostasis, located in Inazuma.
Fluorescent Fungus can be found growing in small groups on Tsurumi Island.
Treasure Hoarder, Silver Raven and Golden Raven Insignias can by obtained by defeating Treasure Hoarders, who can be found all over Teyvat.
Thoma Talent Materials
In order to make Thoma stronger, you'll need to upgrade his talents. The materials you will need are as follows:
Treasure Hoarder Insignia
Silver Raven Insignia
Golden Raven Insignia
Teachings of Transience
Guide to Transience
Philosophies of Transience
Hellfire Butterfly
The Teachings, Guide, and Philosophies of Transience can be obtained by completing the Domain of Mastery: Reign of Violet every Monday, Thursday, and Sunday. Meanwhile, the Hellfire Butterfly is a potential drop from the Weekly Boss La Signora.
As for his talents themselves, it is recommended that you prioritize leveling up his Elemental Burst Crimson Ooyoroi first, as this is how he makes use of his Pyro application as well as creating his shield. You should focus on his Elemental Skill Blazing Blessing second so you can make his shields stronger, whilst leveling his Normal Attacks is the lowest priority.
Thoma Best Weapons
Although Thoma's kit indicates he is more of a support character, as with most characters, he can be built as a DPS if you so desire – although this isn't really recommended since his DMG scaling isn't that great. Regardless, here are a few suggestions depending on what kind of build you're aiming for:
Support:
Skyward Spine (5*)
Staff of Homa (5*)
Favonius Lance (4*)
The Catch (4*)
Sub DPS:
Engulfing Lightning (5*)
Staff of Homa (5*)
Primordial Jade Spear (5*)
Skyward Spine (5*)
The Catch (4*)
Deathmatch (4*)
Blackcliff Pole (4*)
Due to Thoma's Elemental Bust having a high Energy Cost of 80, having a decent chunk of Energy Recharge on him is a must. His BiS for a support build is either Skyward Spine, which gives him plenty of Energy Recharge, or Staff of Homa, which gives him a decent amount of HP for his shield to scale off. The F2P Polearm The Catch also gives him a good amount of Energy Recharge.
For more DMG output, Engulfing Lightning has both high ATK and Energy Recharge which makes it his BiS for a DPS build. Again, The Catch is great for F2P players and gives Thoma both high Energy Recharge and CRIT DMG and Rate for his Elemental Burst, especially at high Refinement.
Thoma Best Artifacts
Depending on what kind of role you want Thoma to fulfill, the Artifact sets you'll want to run on him will vary. For a support build, we recommend 2-Piece Tenacity of the Millelith and 2-Piece Emblem of Severed Fate: this will give him plenty of HP for his shield to scale off, as well as enough Energy Recharge to help him activate his Elemental Burst. You can also run 4-Piece Noblesse Oblige if you want your Thoma to focus more on buffing your other characters.
For a Sub-DPS build, 4-Piece Emblem of Severed Fate works great, as well as 2-Piece Crimson Witch of Flames and 2-Piece Noblesse Oblige. It's not advised to run 2-Piece Gladiator's Finale or 2-Piece Shimenawa's Reminiscence since the majority of his DMG will come from his Elemental Burst, which 2-Piece Noblesse Oblige is more beneficial for.
For low-level players, a 4-Piece Instructor works very well on him until you're able to get higher-level Artifacts.
For your Artifact main stats, you will want to run:
Support:
HP% / Energy Recharge Sands
HP% / Pyro DMG Bonus Goblet
HP% Circlet
Sub DPS:
HP% / ATK% Sands
Pyro DMG Bonus Goblet
CRIT DMG/Rate Circlet
In terms of Artifact substats, you'll want to focus on HP%, ATK%, Elemental Mastery, Energy Recharge and both CRIT DMG and CRIT Rate. These substats are actually the same for both support and DPS builds, although a support build may favour HP over CRIT stats.
How To Use Thoma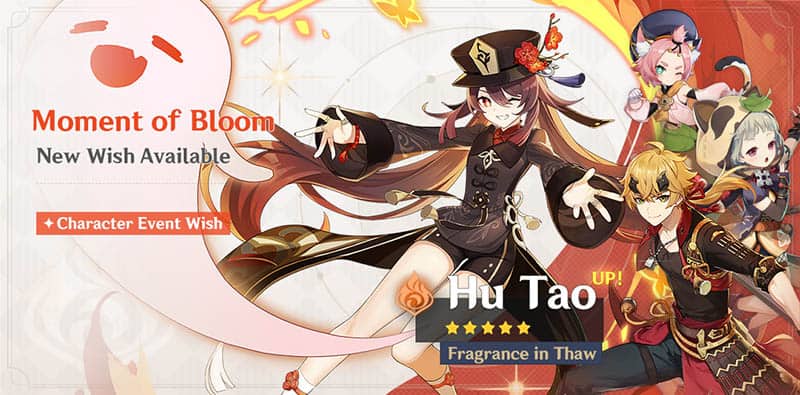 Thoma's Elemental Skill, Blazing Blessing, deals AoE Pyro DMG and summons a shield that scales its absorption off Thoma's Max HP. This shield also absorbs Pyro DMG 250% more effectively.
His Elemental Burst, Crimson Ooyoroi, deals AoE Pyro DMG and will trigger AoE Pyro DMG with the active character's Normal Attacks – even while Thoma is off the field. This makes him great at setting up Elemental Reactions. His Elemental Burst will also summon one of his shields.
To capitalize on Thoma's off-field capabilities, it's beneficial to pair him with a DPS character who can make use of the Elemental Reactions triggered with Thoma's Elemental Burst. Tartaglia is a good choice here, as well as Kaeya for F2P players. Tartaglia will be able to trigger constant Vaporise reactions to deal high DMG when using his Elemental Skill, whereas Kaeya will be able to trigger Melt when his Elemental Burst is in effect. For the Pyro Resonance and heals, Bennett is also a viable choice, and to help with crowd control, an Anemo character such as Sucrose, Venti or Kazuha works well. An Anemo character will also Swirl the Pyro element, therefore helping you deal even more damage.
Thoma can also work well when paired up with Hu Tao, who he appears on the same banner as. Hu Tao really benefits from being shielded due to her low HP play style, and Thoma can both supply shields for her as well as set up Pyro Resonance, which will increase her overall DMG output.
Overall, Thoma is pretty versatile and should be able to work in most team compositions. His versatility, on top of being a four-star character, makes him well worth picking up – even if unintentionally. If you end up pulling him whilst trying to bring Hu Tao home, consider building him up and see how he works for you. Although you shouldn't get your hopes up about his DMG, since this is where Thoma, unfortunately, falls a little flat.