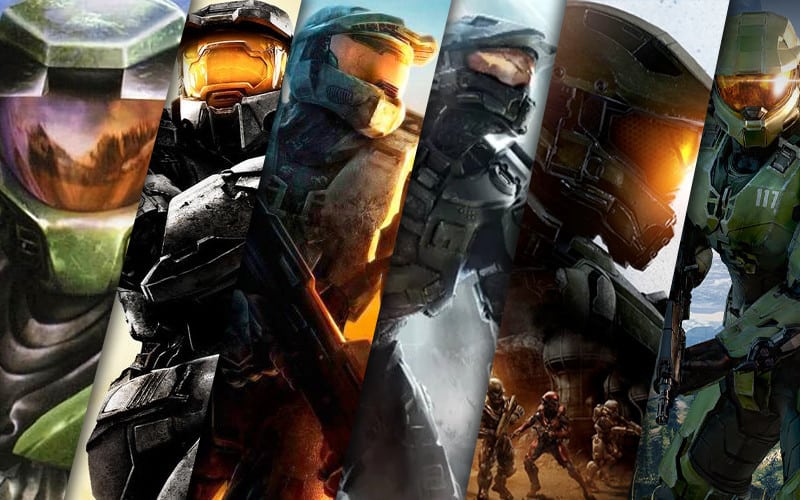 Last Updated: November 15, 2021
From budding strategy game to fully-fledged franchise, Halo is both the pinnacle of gaming and a complete demonstration of its failings. No one franchise has swung as hard and won, nor completely whiffed their shot as Halo has.
Initially developed for the Mac in the 90s, Halo was intended to be a strategy game in line with Bungie's other title, Myth. The studio even gave a full tech demo on stage at MacWorld in 1999.
Then Microsoft bought the studio. In a preverbal instant, Bungie who had done nothing but develop games for the Mac were destined to be associated with Microsoft for the rest of time. Other than Oni for the PS2. Or Destiny.
Either way, in 2001, Microsoft released their first games console, the Xbox. It had Bill Gates and The Rock on stage, it featured a massive controller and outside of Microsoft essentially dominating the PC gaming market since '93 (even with their fumbling of DOS support on Windows 95), it was completely unproven.
Hark, the herald
That same year it seemed as if Sony's PlayStation 2 would be effectively unstoppable, as Sony's 2001 not only saw one of the best lineups of games ever, but it also featured the timely death of Sega's console output. Sonic the Hedgehog's house pulled out of the market as the Dreamcast faded away, brutally murdered by Sega's inept design that saw the console cracked wide open by burning a CD-R at 1x speed.
Microsoft needed a big hit and it wasn't going to be Shrek. No, it was another big green monster, as Master Chief's adventures not only revolutionized how first-person-shooters were played on console but also jolted the industry in a singular direction until fairly recently.
That fairly recently would be the current thriving nostalgia economy which is more of a spiritual change rather than design – but that's for another time.
Halo: Combat Evolved was not only hugely open – for the time – but altered how first-person-shooters were actively designed. It's a sprawling map as you land on Halo for the first time, hopping into a Warthog just to find yourself entering yet another segment of the same level.
The power fantasy of Master Chief stomping the brutish Covenant into the dirt and riding off into the sunset not only resonated with fans of the story but those who became obsessed with how it played.
Halo: CE's biggest weapon was its multiplayer, featuring maps like Blood Gulch, which would go on to be more recognised for being the setting in Rooster Teeth's Red vs Blue, which in turn, has created this bizarre lineage of entire companies making it big off the back of Halo.
Four-player split-screen? Done. Co-op with your buddy? Right there. Got more than three friends and access to another Xbox? Link them up with an Ethernet cable and you've got yourself a LAN party going on the console.
Halo was such a hit that it went on to influence the other big games coming out in its circle a few years on. In 2004, the big green machine once again changed the game.
Let them eat cake
In a year where Half-Life 2 and Doom 3 were released, Halo 2 was another beast. It brought online multiplayer to millions, introducing a concept that had mostly been limited to those on PC for the last decade or so. Master Chief could wield two guns at the same time and also really wanted you to install Windows Vista when the game finally launched on PC.
Halo 2 also did what 2001's Metal Gear Solid 2 couldn't and got fans behind the new introduction of a playable character that split the story of Halo 2 in half. The Arbiter's story allowed you to play as the villainous Covenant as you would with the marines, with a smooth Keith David voicing the gangling alien.
Adding this additional layer of storytelling and methods of play further altered the landscape, as the bar was now set thrice in one year for how to make the perfect package of gaming goodness.
Halo 2 wasn't all fun and games though, as those who were invested in the story of Master Chief and Cortana were introduced to one of the biggest pains of that year: the cliffhanger. Half-Life 2 had one, so did Halo. The only difference was Halo sort of just ended. Like, no real conclusion even for a cliffhanger scenario. Poof. Done.
Maybe it could have been handled better, or maybe it just fuelled the flames of those who got their wish in 2007.
Consumerism at its finest
To say that Halo 3 is important to the industry's culture is an understatement. It's not only important but a clear example of the tipping point to fandom completely taking over. Even though games tried to replicate its hype afterward, nothing would ever compare to the launch of Halo 3.
Masses of people queuing outside to grab the copy at midnight, a tag line of "Finish the Fight" pumping up those around to pure hyper fan insanity and brand deals that had never been seen before.
Mountain Dew, synonymous with 'gamer culture' as the beverage of choice, had Master Chief plastered all over it. Crackdown, another Microsoft title, literally only sold well due to including a beta code for Halo 3. The NASDAQ celebrated it. Burger King and 7-11 had whole entire product lines dedicated to it.
Halo 3 changed the game for the industry at large. Nothing has and nothing will compare to that shift.
The game itself? Well, it's argued that it's potentially the best of the original trilogy of games. A solid multiplayer component and pure adrenaline rush of a campaign made it easily one of the best games of 2007. While it did nothing revolutionary as the previous two games did, it cemented the formula as something that carried on to influence design at its core for a good few more years.
Games like Haze were marketed as 'Halo-killers', while Sony tried their hand with the Killzone franchise, eventually finding their footing with things like Uncharted instead.
Halo 3 ruled. Personally, as an aside, this was the game that sold me on the genre. In 2007 I was a mere child, I wanted nothing to do with first-person shooters and I had no interest in anything that wasn't Nintendo-based. Of course, as you enter your teen years, that changes, and I was all aboard the 360 and hyper-violent train from then on.
With three games under their belt and a trilogy well and truly finished, Bungie pretty much said "goodbye" to Halo, until the suits came knocking. Halo 3 was such a success, they couldn't possibly just leave it at that.
"Wake me, when you need me" wasn't just Master Chief leaving things open for future development, but as a fire alarm without the glass shattered. Microsoft needn't use it until absolutely necessary.
But that's not how the industry works. Bungie clearly wanted nothing more to do with Chief, his arc over and now floating in space, decided to bank on a smaller excursion before one final blowout.
Two last goodbyes
Halo 3: ODST is not what the surface layer of fans wanted. It's also not what was expected. A Halo game that drove back to the roots, doing away with Master Chief's style from 2 and 3, opting for health packs and chaos from the very easy potential to die.
Set between Halo 2 and 3, you play a member of the ODST, the elite squad just situated below a Spartan-like Master Chief. Equipped with a silenced pistol and SMG, you embark on trying to figure out what happened to your squad through a series of flashbacks. While the game mostly devolves into traditional Halo affairs, the segments in the night city are lauded for the ambiance, noir mood, and overall sense of dread, reviving the fear of the enemy that had been lost post-Halo 2.
It was a holdover though. Halo 3 was two years prior and in 2009, Halo was no longer top dog. That crown belonged to Modern Warfare 2 and the game didn't even release until a whole two months after ODST. Things had shifted while Halo was away and to reclaim whatever land is lost, it'd need something more than an expansion pack with included Halo 3 DLC.
Enter Halo: Reach.
A completely new look, engine, and feel, Halo: Reach attempted to recapture the original feel of the first Halo game, while still providing the combat of the sequels. It didn't need to change the game, just firmly stamp Halo's place as a non-has been in a world where modern military shooters reigned supreme.
Halo: Reach did do something that hadn't been done before in a Halo game and that provided a meaningful story. While folks had gotten attached to Master Chief and Cortana, you can't really say that outside of the spectacle and reliance on pulling heartstrings through the years of dedication the fans provided that Halo had a meaningful story.
The group of Spartans each with their own spotlight moments, fighting what you, the player and these characters know as a losing battle, strikes a different chord than the other games. Halo was always about victory and overcoming the odds. Halo: Reach was merely about outlasting the expected.
Then, with that, Bungie separated from Microsoft, creating a deal with Activision to publish their new game, Destiny, which has also gone on to create its own legacy. The Master Chief was now firmly in the hands of Microsoft and they created a studio, 343 Industries to carry on its legacy with members of Bungie's creative team staying behind.
Thus, the low point in Halo's history began.
The trouble with finishing the fight
With an industry that was moving away from the fantastical and more towards realism, the world no longer wanted to fight space aliens. The world was more than happy duking it out on battlefields, as each year Call of Duty raised the bar further for industry milestones and the goal became to recreate the next one of those.
Gearbox, a studio known for B-tier games and expansion packs to Half-Life, was ruling the co-operative market with their Borderlands series, while EA attempted to gain traction with a failed reboot of Medal of Honor and abandoning their funnier take with Battlefield: Bad Company, in favor of the now revitalized PC market's "need" for a Battlefield 3 – sans personality.
Halo's lasting reach on the industry had begun to lose its grasp, as games just began to follow the money. 343's next Halo game was going to be a fascinating one.
343 is a fine studio, with a lot of talented people on board and have done their best with a series that was finished. Halo 4 and Halo 5 however are not good games. They lack the creativity that was seen between each of the original three, while also providing boilerplate multiplayer that never stuck the landing. Why play Halo 4, when I can simply get a very similar experience by playing the much better Halo 3 or Reach?
Storywise, it relied too heavily on a nostalgia trip of bringing back the Covenant in its original form and trying too hard to make a stamp in the wrong direction. It tried to go too wide, embracing a canon that didn't particularly matter and one that Bungie had mostly avoided. As a game, it felt nice to be back in big green plains, but also, what was it doing new?
The introduction of the Forerunners didn't exactly tantalize, offering just basic concepts rejigged to something else. Nothing stood out and Halo 4 sort of just faded away.
Lost Spartan
Halo 5 however, tried to follow that money. It saw the studio try to transplant that Halo DNA into other styles of games that failed to work. It didn't help that Halo 5 was also heavily restricted by a new console that quite literally couldn't support known features that had lasted through the series up until this point.
Master Chief is seeking Cortana after she goes rogue at the end of Halo 4, while also being chased by a new Spartan crew headed by Spartan Locke. Not one new character features a personality. Not one new addition does anything to 'help' innovate on the Halo formula and for the most part, it seems even 343 have decided that it wasn't worth it as the upcoming Halo: Infinite appears to be taking the bullet points and running with that, rather than a direct sequel.
The multiplayer, while fun, never felt right. Halo 5 had become a monument to the industry's shortsightedness and heavy reliance on homogenizing titles into one formless lump that will have 'mass-market appeal', rather than carving out an identity. The games sold well, but no one talks about Halo 5's campaign, while I'm sure anyone who has touched a Halo game can pinpoint a moment they liked prior to these two titles.
If Halo 5 was a shining example of the current state of the industry, I'm not entirely sure what you'd call The Master Chief Collection.
How does this happen?
When Square Enix decided to pull Final Fantasy XIV from sale and revamp the game to make it better, I don't think they ever intended to cause the knock-on effect they had envisioned. FFXIV was a catastrophe on launch and a raging success after being fixed up.
With this message that simply releasing something broken or bad into the ether and hoping to fix it at some point in the future, because you know it'll sell regardless became this weird theme for games between 2013 and, well, now. Early Access, misuse of the word 'beta', and an overall lack of respect for the audience dictated how certain games would grace shelves – or digital storefronts.
The Master Chief Collection was 343's 'remaster' of the original block of Halo games in the run-up to Halo 5. It was, to be frank, a mess. In fact, in certain cases, it still is.
The multiplayer component barely worked, the single-player had constant issues and this took actual years to fix. It was the lowest point of Halo's history, as the running theme with it was a constant barrage of patches for months on end. Clearly, the abundance of things in the game completely derailed any chance of the game performing well out the gate, as micromanaging the collection of games, enabling multi-game playlists where you could hop between each title, as well as developing Halo 5 could have been nothing but stretching the teams involved thin.
If you're wondering why The Master Chief Collection is after Halo 5 in this retrospective, it's because we still live in a world today where there are issues with this remaster. While playing the game on PC, I experienced constant lighting issues during some campaign modes, sounds would desync and catch back up, or ALT-Tabbing out of the game to check a message completely closed it off to me but kept the process running in the background.
People might point to games like Assassin's Creed Unity as shining examples of the brutal conditions that the development of video games can be made in, or over-promises and bad marketing like No Man's Sky, but nothing seems to have been as big a disaster as a collection of Microsoft's best games, The Master Chief Collection.
So what next?
Halo Infinite and beyond
With the launch of the Xbox Series X and S, of course, there was to be a new Halo. The series had taken a bit of a back seat, with Halo Wars 2 and the spin-off Spartan Assualt games not really sticking the landing as intended.
So at an event in 2020, Microsoft demoed Halo Infinite, a newer take on the adventures of Master Chief. Now stranded on another Halo, he must fight back against a sect of his old foes that won't give up.
The demo's gameplay was met with a positive response. The way it looked? Not so much.
The internet immediately screenshot the face of 'Craig', an enemy with low-resolution textures, and the 4K video that was uploaded to YouTube was picked apart until the carcass' bones began to crack.
343 could not have another failure on their hands. Microsoft could not have another failure on their hands either.
In a move that the industry seems to be taking on more and more, the game was delayed out of 2020 into 2021, as the team fully admitted that Halo Infinite needed time to develop further, rather than being put out and patched as time went on.
The ways of the last generation would not bode well for a console cycle in a pandemic, with few games to play and Halo's popularity waning as it was.
Was it worth the wait? Will it make the splash it needs to?
We'll find out on December 8th, but it looks promising.