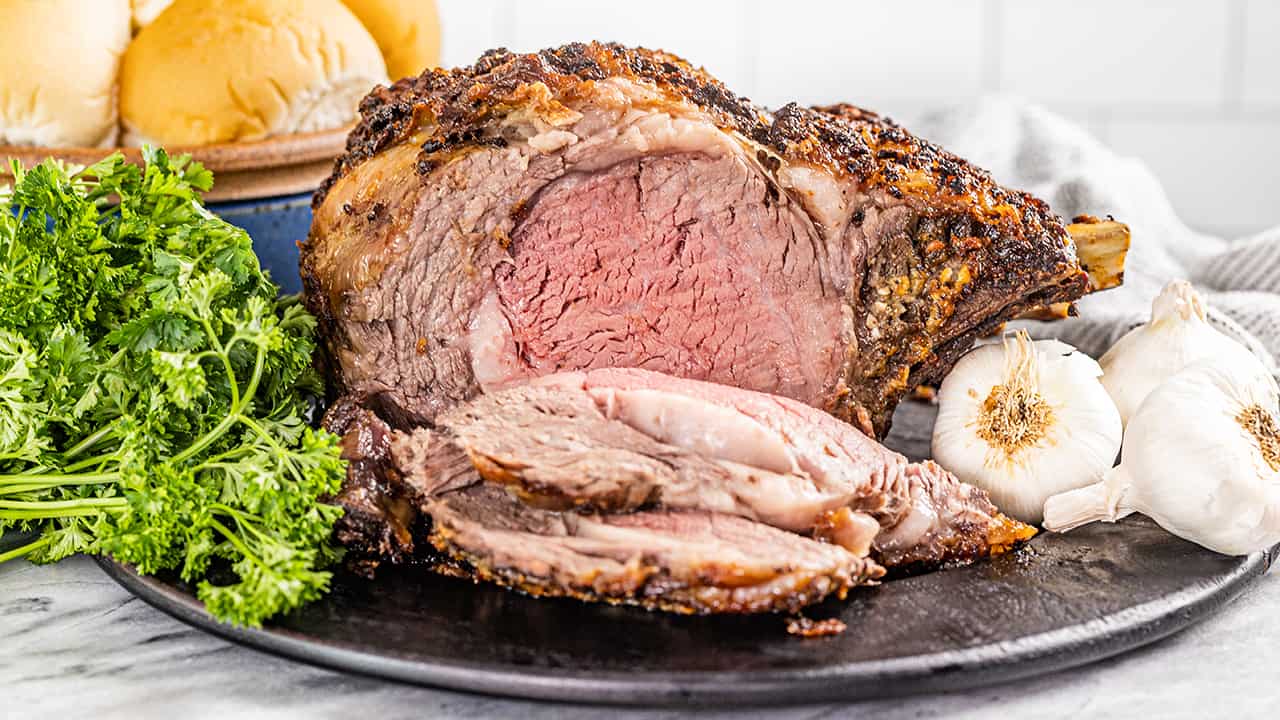 Prime rib always seemed so daunting to cook at home. It is expensive, the expectations are always high, and you really don't want to ruin the day and waste so much money. However, cooking this for the first time was such a pleasant surprise. It was quick, it was easy, it was delicious!
Prime rib is one of those meals that will never go out of style. We typically reserve this dish for a holiday or some other special occasion, but not going to lie, we could eat it every single day. It's not even about the nostalgia in it, we just simply don't think there is anything better than a tender, juicy prime rib. 
Can I use a boneless roast?
You absolutely can! We are using a 3 bone prime rib roast, but this recipe will also work for a 4 bone or a boneless roast.
Horseradish:
Make sure you are using prepared horseradish, and not a horseradish sauce. Check your labels carefully!
Do I need a meat thermometer?
Yes, a meat thermometer is highly recommended for making prime rib. You do not want to overcook an expensive cut of beef, and it is just all too easy to do that without a meat thermometer. If you attempt to cook yours without a thermometer, you'll be making an estimation based on time. The rule of thumb is 13 to 15 minutes per pound for medium-rare. Be warned that cooking by minutes per pound is always an estimation and results will vary. 
What if I don't have a roasting pan?
You can still make this dish without a roasting pan. Go ahead and use a 9×13 or a cast iron pan. Once your prime rib roast is done cooking, remove it from the pan and move to a cutting board or serving platter to rest.
How much meat should I plan per person?
Prime rib tends to be the star of any meal, and rightly so as this is an expensive piece of meat. For a conservative dinner, plan on at least 1/2 pound per person you intend to serve. For a more robust centerpiece for your meal, plan on 3/4 to 1 pound per person. 
How well done should I cook Prime Rib?
Make sure you only cook prime rib to medium-rare. The outer ends will be well done and gradually decrease down to medium-rare in the center. There's something for everyone with this roast! And the middle is left with a perfect, melt-in-your-mouth medium-rare.
What should I serve with prime rib?
You should always have mashed potatoes and gravy with prime rib. It's practically a must! Try our Classic Mashed Potatoes as well as our Steakhouse-style Garlic Mashed Potatoes. Other favorites are green beans and dinner rolls. Yum!