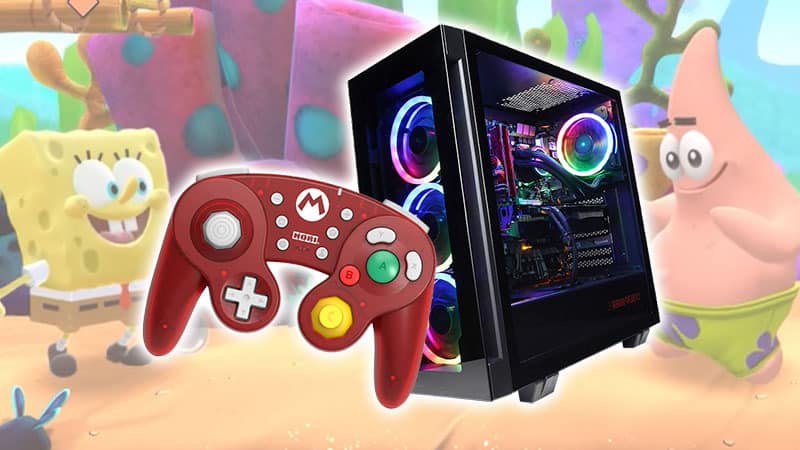 Party fighter Nickelodeon All-Stars Brawl is set to release with rollback netcode and fighting game enthusiasts everywhere are lining up with their GameCube controllers to Smash one another to pieces in online matches. 
GameCube controllers are very unique, and the fact there are so many different ways to use that form factor of the game control pad on Windows 10 and Windows 11 is only a testament to the fact that for some games, it has simply never been beaten. Nintendo themselves basically even admit as much, as whenever they release an entry in the Smash Bros. series they sell a USB controller adapter and GameCube controller replicas to go along with it.
We'll explain the various GameCube controller on PC options for you, and hopefully you can make the decision on which method or pad you'd like to use for yourself afterwards as honestly they're all valid ways to solve the problem. These methods all work with Nintendo GameCube and Wii emulator Dolphin, so keep that in mind.
How do I use Nintendo GameCube controllers on PC?
As we said earlier, Nintendo do release adapters and controllers alongside new Smash Bros. releases, but they feel a bit like gold dust and can be pricey because the print runs are still quite small. You'll likely be buying them used, which is obviously a risk in itself.
If you're OK with a cheap third party GameCube controller reprint, or a knock-off GameCube to USB adapter, then you'll be fine, but remember that unless you have a Nintendo GameCube WaveBird controller from 2002, it won't be modern and wireless. 
To use a Nintendo GameCube controller on PC for the Dolphin Emulator, on Steam games like Nickelodeon All-Stars Brawl or whatever else you'd like to, then follow these steps… 
First of all, get a GameCube to PC adapter. We recommend this one from Mayflash, because they're a reputable third party gaming hardware brand. It also works with Nintendo Wii U and Nintendo Switch, so it's a useful thing to have.
Plug the adapter into an open USB port and it will install drivers.
Plug the GameCube pad into the adapter. It'll work now, but in your software, you might have to set it as the active controller or otherwise configure it. You'll probably find it listed under the adapter name. 
If you need further help to get your controller working with Dolphin, then consult this support page. 
How do I use third party GameCube controllers on PC?
There are several different GameCube controller replicas available from third party controller manufacturers, and some of them are very good. Most of these controllers don't have Analog Triggers as they're actually designed for the Nintendo Switch, where games generally don't support the feature.
If these are wired, you'll connect them via. USB. If they're wireless, then it'll need to connect over Bluetooth. Your PC should detect them as a Nintendo Switch Pro Controller and they should just work thanks to the power of Windows plug-and-play. 
What third party GameCube controller alternatives are available for modern games?
PowerA Wired GameCube Style Controller
PowerA's wired controller has no rumble feedback or gyro motion support. It is often the cheapest option for this sort of controller. We found that it was a lot lighter than its competitors too, which did make it feel a bit cheap. Be warned, one of these actually broke on us!  
PowerA Wireless Controller for Nintendo Switch
PowerA's Wireless is a bit more expensive, but generally feels better in the hand. This controller uses 2 AA batteries, but good batteries will give you around 30 hours of game time. It has no rumble feedback, but does have gyro motion support.
Exlene Wireless Controller for Nintendo Switch
Exlene's wireless controller is the most compatible one, but will need to be plugged in over USB for you to do the first-time sync. It's battery should last about 10 hours on a full charge. We're not keen on it's D-Pad, which is weird and thin.
Hori Battle Pad
This one comes in a variety of delightful Nintendo colors and themes. It has no rumble feedback or gyro motion support and has the best and most responsive non-analog triggers. There's also a cheaper version that is wired. We think we like the Hori Battle Pad the most out of the third party offerings, for what it's worth.
Here's a table briefly explaining the many other differences between these third party GameCube controllers and what compatibility features they each have: 
| | | | | | |
| --- | --- | --- | --- | --- | --- |
| | Official Nintendo GameCube Controller | PowerA Wired Controller | PowerA Wireless Controller | Exlene Wireless Controller | Hori Battle Pad |
| Wired | Yes | Yes | No | Yes | Sometimes |
| Wireless  | No | No | Yes | Yes | Sometimes |
| Rumble Support | Yes | Yes | No | Yes | No |
| Gyro Motion | No | Yes | No | Yes | No |
| Analog Triggers (on PC) | Yes | No | No | Yes | No |
| Licensed by Nintendo | Yes | Yes | Yes | No | Yes |
We hope this GameCube controller on PC guide was helpful. If it was, then let us know in the comments section below!