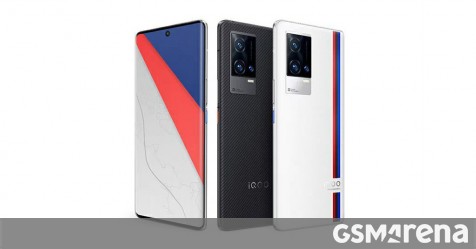 There has been no shortage of info on the upcoming iQOO 8 series of devices lately. As far as we currently know, we can expect a vanilla and a Pro version to become official on August 17. In the meantime, it seems units are already out in the wild, as evidenced by five, or so, GeekBench runs for a vivo V2141A. A model number that has previously been associated with the iQOO 8, though, without clear indication whether the vanilla or the pro version.
It is worth noting that not all of the hardware profiles reported in the GeekBench runs are absolutely identical. All of them do appear to be rocking the same Snapdragon 888+ chipset, as expected, but some of the tests were done on a variant with 8GB of RAM, whereas others on one with 12GB. As far as we currently know, the iQOO 8 series, will, be available with up to 16GB of LPDDR5 RAM, though with 4GB of those being virtual RAM. So, the specs seem to check out.
Other expected hardware includes up to 256GB of UFS 3.1 storage, as well as a fancy Samsung E5 LTPO, 6.78″ AMOLED display, with 1440p resolution, 517ppi density, 10-bit color and adaptive refresh rate from 1Hz up to 120Hz. Charging on the iQOO 8 pones is said to top out at a solid 120W wired, with the iQOO 8 Pro also getting 50W wireless charging and 10W reverse charging support.
Cameras are said to be a major highlight of the iQOO 8 phones as well. iQOO has already revealed that the 8 Pro will have a 50 MP main camera and a 48 MP ultrawide. The third cam will be a 60mm in 35mm equivalent (about 2.5x) zoom lens.
As far as pricing goes, a CNY 5,299 figure, or about $818 has been rumored, allegedly in association with the iQOO 8 Pro model. Though, we can't really say which storage and RAM tier that number is tied to. Nor whether it is for the also rumored special BMW edition of the phone. So, there is still some mystery left for the August 17 event.