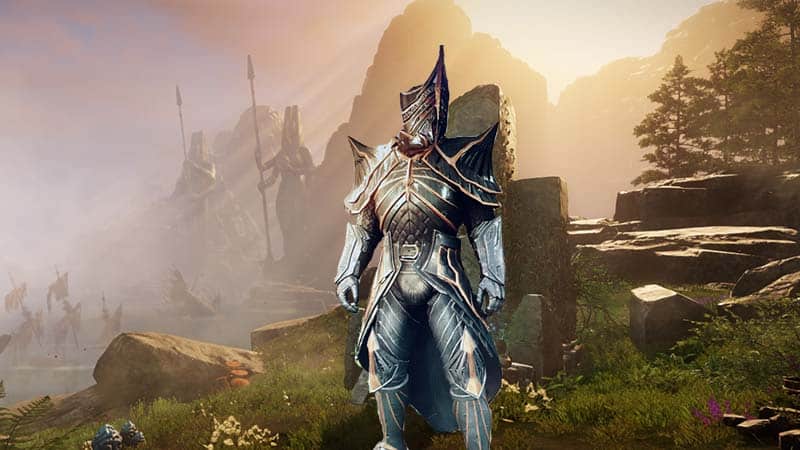 With many players making their way to the end game of New World, players are beginning to craft their armor and weapons. One of the most highly desired crafting sets in New World is the Voidbent armor. The item set is a 600 gear score legendary set, which players can craft in light, heavy and medium varieties. Here are all the details you need on the New World Voidbent armor.
What is Voidbent Armor in New World
Voidbent armor in New World is a 600 Gear Score craftable set, with each piece having a 600 gear score. To access the New World Voidbent armor, you first need to make yourself some Voidbent ingots. The typical process of acquiring New World legendaries is by unlocking the crafting recipe through places like Mrykgard.
However, armor works a little differently. First, you need to come across the legendary crafting mat that is required to make it, and the Voidbent set works using that exact unlock formulae. Before going any further, you're going to need to have 200 armoring before you're going to be able to craft the Voidbent New World set.
Once you get round to crafting a full set, here are the attributes you should expect from each individual gear piece.
25 Constitution if you go the heavy armor route.
25 Dexterity if you opt for the medium armor.
25 Strength if you prefer the light version.
You can expect to get 125, Constitution, Dexterity, or Strength from the appropriate full set. Moreso, you can get an empty gem slot one each piece, along with Resilient, Invigorated and Luck regardless of armor class.
Resilient – Critical hits deal 4.8% less damage to you.
Invigorated – Weaken, Disease, Exhaust, and Rend, expires 4.8% quicker.
Luck – 2.8% chance at rare items from chests and monsters.
Add these attributes together, and you can get a total of 24% reduced critical strike damage taken, 24% reduced duration of invigorated debuffs on your character, and 14% bonus luck when interacting with monsters and chests. As you can see, these are incredibly strong for PvP and farming end game loot. These stats are universal across all the Voidbent armor sets, so don't worry about which armor type you want,
Read More: New World attributes and New World armor
How to get Voidbent armor in New World?
If you're interested in farming for the New World Voidbent armor set, we have listed the full crafting needs for the sets. Every piece requires the usual craftable end game materials, which you can also farm in the T5 caches too. If you need the Voidbent Ingot, here is what you need to craft them.
Voidbent Ingot
1x Void Ore
1x Void Essence
10x Energy Core
Ideally 200
T5 Smithing station
We highly recommend curating a luck set for your mining gear so you can get lucky with your Void Essense drops. Otherwise, you might be farming a very long time for this item set. Also, keep in mind you can only make up to 100 Asmodeum a day. It could take you a considerable amount of time before you get to complete the full Voidbent set.
New World Voidbent heavy armor
Voidbent Armor: Heavy
Needs
Voidbent Helm
10x Asmodeum
4x Runic Leather
4x Phoenixweave
2x Infused Fur
1x Voidbent Ingot
4x Tolvium
2x Cinnabar
Voidbent Breastplate
20x Asmodeum
8x Runic Leather
7x Phoenixweave
2x Infused Fur
1x Voidbent Ingot
4x Tolvium
2x Cinnabar
Voidbent Gauntlets
6x Asmodeum
2x Runic Leather
1x Phoenixweave
2x Infused Fur
1x Voidbent Ingot
4x Tolvium
2x Cinnabar
Voidbent Legguards
12x Asmodeum
4x Runic Leather
2x Phoenixweave
2x Infused Fur
1x Voidbent Ingot
4x Tolvium
2x Cinnabar
Voidbent Sabatons
6x Asmodeum
2x Runic Leather
1x Phoenixweave
2x Infused Fur
1x Voidbent Ingot
4x Tolvium
2x Cinnabar
New World Voidbent medium armor
Medium Armor Piece
Needs
Voidbent Hat
12x Runic Leather
4x Phoenixweave
1x Asmodeum
2x Infused Claw
1x Voidbent Ingot
4x Infused Fang
2x Scarhide
Voidbent Coat
26x Runic Leather
8x Phoenixweave
1x Asmodeum
2x Infused Claw
1x Voidbent Ingot
4x Infused Fang
2x Scarhide
Voidbent Grips
6x Runic Leather
2x Phoenixweave
1x Asmodeum
2x Infused Claw
1x Voidbent Ingot
4x Infused Fang
2x Scarhide
Voidbent Leggings
12x Runic Leather
4x Phoenixweave
1x Asmodeum
2x Infused Claw
1x Voidbent Ingot
4x Infused Fang
2x Scarhide
Voidbent Boots
6x Runic Leather
2x Phoenixweave
1x Asmodeum
2x Infused Claw
1x Voidbent Ingot
4x Infused Fang
2x Scarhide
New World Voidbent light armor
Light Armor Piece
Needs
Voidbent Wraps
12x Phoenixweave
4x Runic Leather
1x Asmodeum
2x Runic Thread
1x Voidbent Ingot
4x Scalecloth
2x Blisterweave
Voidbent Robes
26x Phoenixweave
8x Runic Leather
1x Asmodeum
2x Runic Thread
1x Voidbent Ingot
4x Scalecloth
2x Blisterweave
Voidbent Gloves
6x Phoenixweave
2x Runic Leather
1x Asmodeum
2x Runic Thread
1x Voidbent Ingot
4x Scalecloth
2x Blisterweave
Voidbent Pants
12x Phoenixweave
4x Runic Leather
1x Asmodeum
2x Runic Thread
1x Voidbent Ingot
4x Scalecloth
2x Blisterweave
Voidbent Shoes
6x Phoenixweave
2x Runic Leather
1x Asmodeum
2x Runic Thread
1x Voidbent Ingot
4x Scalecloth
2x Blisterweave