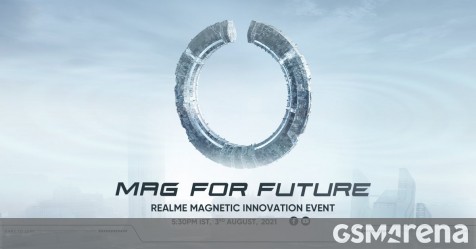 Earlier this week we brought you an exclusive first look at Realme Flash – the brand's upcoming phone with magnetic wireless charging. Now Realme has confirmed a Magnetic Innovation Event set for next Tuesday, August 3 where we'll see the debut of the phone and its magnetic wireless charging solution.
Introducing our next leap! Brace yourselves for the Next-Gen of Android Wireless Charging 🧲!

Bringing you a Magnificent Magnetic Innovation, featuring #realmeFlash and much more.
RT if you can't wait.

See you on 3rd August.#MagForFuture #MagDart #DareToLeap pic.twitter.com/SNi1x4IufV

— realme TechLife (@realmeTechLife) July 28, 2021
The event poster suggests a starting time of 5:30PM IST (12PM UTC) and as usual, we can expect the keynote to be live-streamed on YouTube. We'll likely see at least two MagDart chargers at the event and Realme is teasing more product launches so stay tuned.