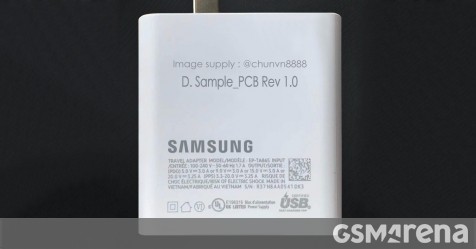 Samsung's ongoing work on a 65W charger has been well documented already. We first was a certificate for an EP-TA865 all the way back in September 2020, followed by some live shots of the brick in January this year. And then another certification in February. Now we have yet another official certificate for the device available, this time courtesy of the Danish UL (Demko) authority.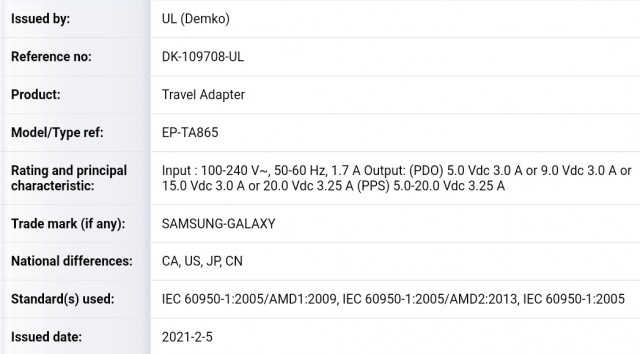 Samsung 65W charger UL (Demko) certificate
It pertains to the very same EP-TA865 charger and pretty-much reaffirms all of its specs, already listed by other sources. It comes as no surprise that the charger uses USB Power Delivery, alongside its optional PPS specification and can deliver 65W at a standard 20 volts of power and 3.25A. The unit can also do 5V, 9V and 15V output, meaning it fits the general PD standard and is a pretty versatile charger, that can easily be used for other devices, including some laptops.
Last we heard, Samsung is testing 65W support on the Galaxy S22 family of devices, expected some time in early 2022. All three models, apparently, if rumors are to be believed. There is still hope that we might see the 65W tech make a debut on the Galaxy Z Fold3 at the upcoming August 11 Unpacked event. Though, it should be noted that leaks have already suggested that the Z Flip3 – the other star of the event, will probably stick to just 15W of charging.
The question of just how conservative Samsung is going to be with its 65W charging tech is also a pretty valid one, especially after the company's brief 45W charging experiments, back with the Galaxy Note 10+, which we proved didn't offer substantial benefits over 25W charging.