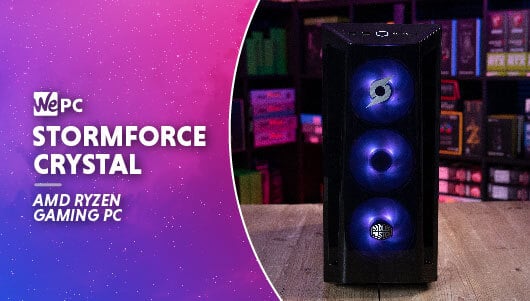 Build Quality
Thanks to the packaging, every component was seated properly and no cables had dislodged, so the system switched on straight away. If you were looking to upgrade this down the line with other components, it should be relatively easy, even for a beginner. All the cables are nicely managed so you would have to cut the ties to remove some of the components but that is easily done.
They have left space for you to quickly install any additional drives you may have around the back, either into the drive cage or mounted on the back panel. This is nice attention to detail as some prebuilt manufacturers may use the drive bays to store excess cables, often blocking them from use. The case also features a dust filter on the top, one under your PSU, and the front panel is also sealed in by mesh-like filters too, making maintenance a bit easier when the time comes to give your system a clean.
We like to look at some of the additional components in prebuilts to see where the manufacturer may have tried to save extra cash. The Cooler Master case isn't for everyone but it isn't bad, I've seen a lot worse for the money, however, the inclusion of an mATX motherboard is a bit disappointing. To be fair to Stormforce, this is a good motherboard and is a typical place to save a bit of money, especially with the micro-ATX form factor but it made the cable management along the bottom a bit ugly.
We have a non-modular PSU which is going to save some money but there is no issue with that whatsoever as you can rarely tell the difference in a built system. The NVMe is a lower-end WD Blue SN550 but no issue with that either, it is still pretty quick storage.
I was surprised to see non-RGB RAM in a build that costs just over £1,500, not to mention only 500GB of storage space. These two items aren't particularly expensive and RGB is hardly important but they are an easy way for a manufacturer to enhance the build. I'm assuming Stormforce is just remaining competitive with this, however, I'd like to see more for this price.
The only thing I'd look to do differently is run the front I/O panel cables and the USB, HD Audio etc, together to the nearest cutout on the right, making them appear as a thick cable. Other than a couple of minor things I mentioned above, the build quality is solid.
Stormforce Warranty
Reading through the included materials with the build you'll notice that when purchasing a Stormforce PC, you will get a three-year collect, repair, and return warranty. This covers repairs and replacement parts, and also includes labor for three years, excluding Ireland, Northern Ireland, and the Channel Islands. Please note, the warranty only covers hardware issues, not software.
If for any reason you experience an issue with your system, you can contact Stormforce directly. Stormforce also has a standard 28-day returns policy, you simply need to get in contact with the company and you will receive your refund within 14-days.