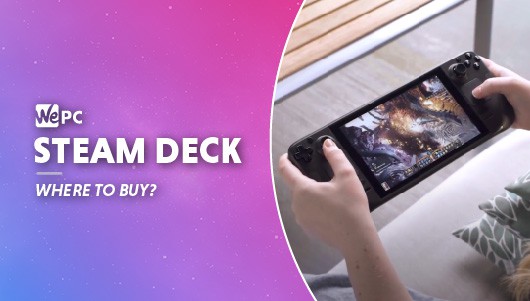 Valve recently revealed the Steam Deck, a handheld PC that looks very similar to the Nintendo Switch, with a 7" screen and console controller-like design. The Steam Deck is touted as the world's most powerful, full-featured, handheld gaming device in the world and it's coming to shelves this December!
With the Steam Deck's powerful hardware and reasonable advertised price, it has left many wondering where can I buy one? Well, we look at exactly how you can pick one up in this article, the Steam Deck release date, pre order, price, and specifications.
Steam Deck Specifications & Features
The main talking point behind the Steam Decks specifications is its implementation of the AMD Van Gogh APU. This new portable console will feature Steam's OS 3.0, giving users the full Steam experience on a handheld device.
The AMD Van Gogh APU provides a similar performance to a PlayStation 4, despite being an entry-level chip. The APU comes with Zen 2 CPU architecture and RDNA 2 GPU architecture, enabling you to play AAA titles on a screen resolution of 1280 x 800 in a 16:10 aspect ratio.
The featured APU will have full access to AMD's FidelityFX Super-resolution, allowing such a small device like this to still produce incredible results.
Full Spec List:
Size: 298mm x 117mm x 49mm
Weight: 669 grams
Operating System: SteamOS 3.0
Processor: AMD APU
CPU: Zen 2 4c/8t, 2.4-3.5GHz (up to 448 GFlops FP32)
GPU: 8 RDNA 2 CUs, 1.0-1.6GHz (up to 1.6 TFlops FP32)
APU power: 4-15W
RAM: 16 GB LPDDR5 RAM (5500 MT/s)
Storage: 64 GB eMMC (PCIe Gen 2 x1)
256 GB NVMe SSD (PCIe Gen 3 x4)
512 GB high-speed NVMe SSD (PCIe Gen 3 x4)
All models include a high-speed microSD card slot
Steam Deck Features:
7" Touchscreen
Trackpads
Gyro
All of Steams features
Controls & Input:
Gamepad controls:   A B X Y buttons, D-pad, L & R analog triggers, L & R bumpers, View & Menu buttons, 4 x assignable grip buttons
Thumbsticks: 2 x full-size analog sticks with capacitive touch
Haptics: HD haptics
Trackpads: 2 x 32.5mm square trackpads with haptic feedback 55% better latency compared to Steam Controller pressure-sensitivity for configurable click strength
Gyro: 6-Axis IMU
You can also buy a dock (sold separately) for the Steam Deck too! the official dock props up the device while connecting to external displays, wired networking, USB peripherals, and power.
Steam Deck Release Date
During the Steam Deck announcement, it was announced that the handheld console device will be available to purchase in December 2021. A new device just in time for Christmas? Superb news. With quite a distance till the final release, hopefully, there should be fewer issues when the time comes to actually buying one.
Steam Deck Price & Pre Order
Valve is set to release their Steam Deck variants, each offering differing internal storage, memory speed, and other exciting extras. The three different Steam Deck models will feature no in-game difference in terms of frame rate and graphical quality and are priced as so:
The 64GB eMMC internal storage with carry case will retail for $399
The 256GB NVMe SSD internal storage with carry case and exclusive Steam community profile bundle will retail for $529
The 512GB NVMe SSD internal storage, with anti-glare, exclusive carry case, steam community profile bundle, and exclusive virtual keyboard theme will retail for $649
You can pre order/ reserve any of the Steam Deck models from Friday 16th July directly from Steams store as long as you have purchased something on steam before June 2021 (so no new accounts).
When pre-ordering, there is a refundable $5 reservation fee and a limit of one per person. By reserving yours, you are simply entering into a preorder queue.
Where To Buy Steam Deck – US, UK, EU, Canada
The Steam Deck is available to pre order right now from the Steam Store, if you desperately want to reserve yours for this December. If not, it will be available to buy in the US, UK, EU, and Canada in December 2021, with it being available elsewhere the following year.